​Pewter had a renaissance during the Art and Crafts and Art Nouveau movements of the 1900s when work by designers such as Archibald Knox became fashionable.Knox's pieces for Libertys were naturalistic with cast flowers and soft lines. Elements of colour were added with enamel and glass. However, pewter has an extremely low melting point so copper was used as the base for the enamel which was then inlayed into the pewter.

The Worshipful Company of Pewterers is fortunate to have several Archibald Knox pieces in its collection including a vase identical to those commissioned by the White Star Line to furnish the state rooms on the Titanic. This fashion for pewter was unfortunately cut short by World War I as the Knox designs were extremely time consuming to make and the labour was not available. After the war the Art Deco movement took hold favouring geometric shapes and factory manufacture unsuitable for pewter

Art Nouveau dish with enamel centre from Liberty's Tudric range

Rose bowl from Liberty's Tudric range (011), designed by David Veazey. Decorated with stylised rose bushes and by lines from Tennyson: "And the woodbine spices are wafted abroad, And the musk of the rose is blown".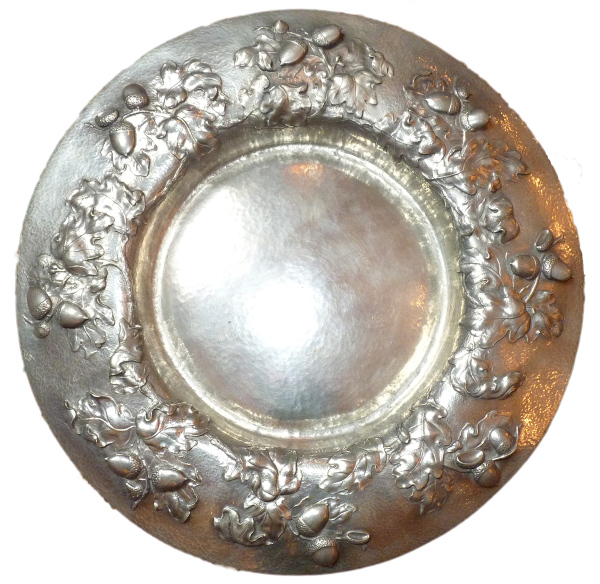 The Gilbert Marks Charger
Gilbert Marks worked principally in silver and is recorded as having made around 800 silver items in a relatively short period of time, between 1895 and his death in 1905. He was a leader in Arts and Crafts design movement and all his work is unique bearing floral and other naturalistic decorations. The Pewterers' charger is one of a few pewter examples that have appeared on the open market in the last few decades.
The charger is 44 cm. in diameter and is signed 'Gilbert Marks 1901' on the rim, the border is richly
embossed with sprigs of acorns, stems and oak leaves, on a hammered ground, the surface being a pleasing lustrous grey in colour.

To Read the full article by Richard Parsons on Gilbert Marks see the Pewterers' Review 2015-2016.
Download Pewterers' Review 2015 - 2016 (pdf)